FAQ
What are your delivery times?
When placing an order you can choose from two options for delivery. You can pick standard shipping which takes usually 3-4 days and the cost is 9,90 €; or you can opt for express shipping within 1-2 days depending on whether your location is more central or rural one, for this shipping we charge 19,90 €. Also, we offer a service called Fast Express (20% surcharge applies + express shipping cost) which enables us to deliver your order within 24 hours. However, to be eligible for this service, you are required to place the order before 10 A.M. on the previous day. Occasionally, we become very busy; therefore, it is advisable to confirm 24 hour delivery with us. Another possibility is an intermediate option, you can ask for standard production time and express shipping to receive your package within three days. With digitally printed transfers the delivery time is usually one day longer. In case you are not in a hurry with your order, you can choose slow production time (from seven days up) and get 5% discount.
What are the settings for ironing the transfers onto fabric?
Cotton:
Plastisol transfers : 165 ° – 180 ° C for 10 – 15 sec, 5 – 7 bar
Digital transfers: 150 ° C for 30 sec, 5 bars (cold peel)
Polyester / nylon:
Plastisol transfers: 145 ° – 160 ° C, 7 – 10 sec, 5 bar
Digital transfers: 140 ° C for 40 sec, 3 – 4 bars (cold peel); teflon is required with a polyester and nylon between the heating plate of your press and the fabric if your press does not have such a coating by itself.
Blended fabric:
Plastisol transfers: 170 – 180 ° C for 10 – 15 sec, 6 – 7 bar
Digital transfers: 150 ° C for 30 sec, 7 bars (cold peel); teflon is recommended between the heating plate of your press and the fabric if your press does not have such a coating by itself.
Peel off the transfer paper after pressing, not too hot and not too cold, 10 seconds is a good benchmark. You should be able to place your hand on the paper without getting burned. Important: these are only recommendations, it is necessary to try first, as each fabric has slightly different properties.
Our transfers are not suitable for Spandex.
Can you send us a price list and samples?
Yes, we will gladly mail you our price list and free samples from our production. Just send us a short message via our contact form http://www.plastisoltransfer24.co.uk/sample/. The prices on our price list are designed for resellers.
For which materials are your transfers suitable?
Our heat transfers are ideal for cotton, but also suitable for materials such as soft shell, nylon, polyester, and blended fabrics. In theory, they can be applied to all materials that can withstand the temperatures and pressures required for the transfers to adhere to them. Therefore, wood is not out of the question. Whether our transfers can be applied on other unusual materials can be only determined by trial and error.
At how many degrees are your transfers washable?
Our Plastisol transfers are washable at 60°C, digitally printed transfers are washable at up to 40°C.
Which transportation company do you use to deliver orders?
Our reliable partner for shipping is TNT. You can track the status of your package on their website. To find out the tracking number, log on our website, click on "My Account" and then "Order" button. We copy the tracking code there once the order was shipped.
What are my best options to order?
For enquiries and quotes, contact us by phone or email. However, we ask that you fill your orders in our online shop yourself.
You require Pantone colour values. Can I send you also HKS colour values?
Yes, we use Pantone Solid Uncoated guide book when mixing inks as our standard. We can also imitate Pantone Solid Coated colours; nevertheless, Plastisol inks have matte surface when cured, they are not shiny. The colour values in our menu are the ones we can easily offer to you; however, it is possible for us to approximate other colours as well. Many HKS colours can be mixed with reasonable accuracy. In case, you need another special colour not specified in our order form, please ask us what can be done. We can get very close to some colour values, but not all. If you do not know exact values of the colours, you can ask us to see what our software reccommends as the closest colour value, or just ask for bright red or dark green and we will choose one resembling the design you supplied.
So, if you have special colours on your mind (that are not in our form), please, when filling the order, select Other. This will tell us, that we have to check your comment. Then enter the real values in the comment box at the very end of the ordering process. We will contact you in case we are not sure or there could be a problem with your specific request. Some Pantone colour we can only roughly approximate, such as Pantone Reflex Blue. But there is always a good chance that we can get close to your colour values, so let us know.
Please be aware of the difference between Pantone Guide Book neon swatches and Plastisol neon inks. See our picture as a guidance only here.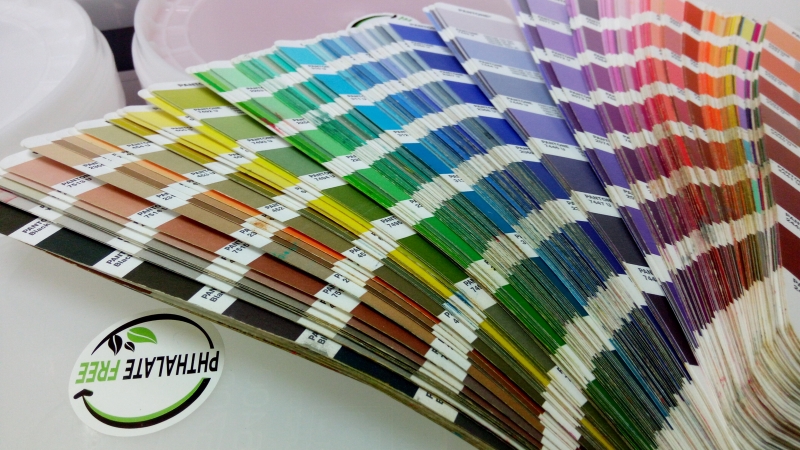 What formats of data are acceptable for you?
For Plastisol transfers, we need all data vectorized. Please, make sure that all fonts are always converted to curves! The best way to send us printing data is to save them in PDF/X format. A Corel Draw file (CDR) or Adobe Illustrator (AI) are also acceptable. We ask that you send us a bitmap (JPG file) with each printing data file, this is to make sure that the data for printing is not corrupt and we know exactly how the final picture should look like. Please, put designs with white in it on a coloured background, as sometimes it is not clear whether some areas should be filled with white colour or left transparent.
Please be aware that we can guarantee lines and details down to 0.7 mm in size. Narrower lines and smaller details may still be visible, but because of screen printing limitations we cannot accept any complaints regarding lines and details bellow 0.7 mm.
For digitally printed transfers a bitmap file is fine, the file should be saved as TIF or PSD with original resolution higher than 300 dpi, we normally use 600 dpi. In this case, JPG can be used only as a preview because the quality of this format is not suitable for printing. If there is a white ink in your design, please make sure you send to us preview with a background in a colour not present in your design so that we can see the final look correctly.
When do I need a blockout transfer?
Our colours are opaque, and except neon Pantone colours 801-809 do not have to be backed by white colour. The blockout layer is only used to prevent the leaking of fabric colour into Plastisol transfer. Whether it is necessary or not depends on the property of the material you are applying our transfers on and is in your own discretion. Unfortunately, we are unable to determine whether you will need blockout transfer or not, as we can never be hundred percent sure what the fabrics actually consist of.
That is why we recommend testing the transfers in advance with the specific textile to determine if the blockout is needed or not. It happens rarely that a chemical reaction affecting the colours takes a place after the first wash when the aggressive substances are released from fabric. Therefore, it is recommended to take another test after washing and pressing. Only you can decide based on trial and error with your textiles whether you require blockout transfers or not. In extreme cases the blockout transfer can be affected by chemical reactions too, so the bleeding through can occur. However, this is absolutely unpredictable and depends only on the fabrics. We can never 100% guarantee that bleeding through will not take place in your case.
My transfers are faulty. What can I do?
Even though we make a lot of effort, an error can still occur. To prevent this as much as possible, we ask you to supply us with well prepared files based on vector data (ideally PDF/X format, fonts converted to curves/paths, or CDR/AI files) in the appropriate quality, as well as a preview file in JPG format. We compare the preview file with the data meant for printing. Most of the time, we are able to pinpoint the problem and ask for new data. Sometimes; however, even we miss something. If you have a complaint, please contact us. Send us an email message and attach a photo of the error so that we can see. If the problem is on our side we will ask you to send us back all faulty transfers, and we will print new ones for you. Not always is the problem on our side. We can only print your designs in the quality provided by you. We will print what you ask us to print even if the quality is not good, but we will ask you to take the responsibility. If the resolution is not high enough and we told you so, we will not accept the complaint about the resolution of printing.
Do I have to pay for the transfers in advance?
Yes, we prefer that you do. You can pay per Card via payment gateway (Stripe) or via wire transfer. If you are unsure about your selections, or you want to make some customizations, please, select Payment in advance and contact us. When making payment via wire transfer email the screenshot of your payment to us to speed up the processing time. Also, mention the number of your order in a message for us.
Our bank Information:
Sparkasse Oberlausitz-Niederschlesien
Frauenstraße 21
02763 Zittau
Germany
BLZ – 85050100
KTO – 232010978
IBAN – DE45 8505 0100 0232 0109 78
SWIFT-BIC: WELADED1GRL
Account Holder: Plastisoltransfer s.r.o.
Downloads: